In this article we'll review the Wen Vs Harbor Freight Drill Press and see which one comes out on top!
Let's admit it; we've all wanted to build our dream project in our backyard workshop! But, the confinement of space and lack of robust tools always hinders our thought.
Nevertheless, both Wen and Harbor have managed to resolve this problem with their respective drill presses. Both have similar specs and come at similar prices. But that's got people confused about the one performs better in real-time.
Well, not anymore, for we've created this Wen Vs. Harbor Freight Drill Press article to answer that exact question.
Central machinery drill press review
What is Wen 4208 8 in. 5-Speed Drill Press?
WEN 4208T 2.3-Amp 8-Inch 5-Speed Benchtop Drill Press
Includes a 1/2-inch keyed chuck and onboard key storage
Operates at 5 different speeds: 740, 1100, 1530, 2100, 3140 RPM
Spindle travels up to 2 inches with easy to read, locking linear depth stops for accurate and repeatable drilling operations.Cord Length (ft.):6
Durable 1/3 HP induction motor develops ample torque and power
6-1/2 x 6-1/2" worktable is height adjustable and bevels up to 45 degrees left & right
Wen's 4208 8 in. 5-Speed Drill Press is the perfect solution to home inventors and designers' primary problems in the past. It's a powerful drill press that can penetrate through wood, metal, mild concrete, plastic, and more. Plus, it's compact enough to be stored in the corner of your garage!
This superb machinery comes with a ½ inch key chuck and onboard key storage. Plus, it operates flawlessly at five varying speeds. You can quickly determine the drill speed from 740, 1100, 1530, 2100, and 3140 basis the build and width of the material you want to drill holes in.
Wen 8-inch 5-Speed Drill Press is a versatile machine that can be used for several purposes. Nevertheless, we have enlisted the two of our favorites here: –
You can bring it to create new wooden artifacts to use as home décor or even make some essential toys for your young ones.
You can use the machine to accurately bore holes in metal planks, which could be used for several objectives. The planks can be combined to form reinforced doors or fences.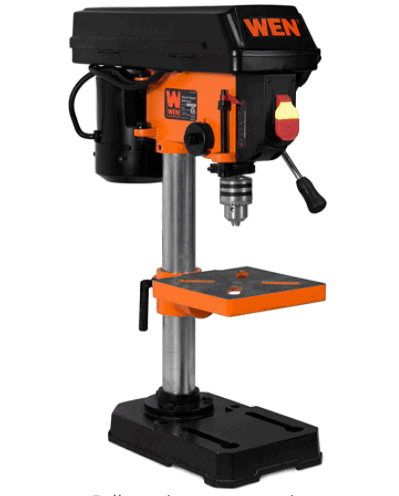 Pros
This drill press comes with 120V, 60Hz motor that can easily generate power worth 1/3 HP. In short, it generates sufficient power to help you bore through wood, metal, and plastic blocks with ease.
Even the spindle on this device can travel up to 2 inches. Plus, you can easily lock in the linear depth while always drilling to drill accurate holes.
Cons
The drill does not come with an entirely flat base. So, you might end up having a rocking drill press in your workstation.
This is a versatile, bench-mounted drill press explicitly built for using in-home or small workshops. The drill press comes with a professional-grade tiltable table that's built into the primary structure.
The integrated table is of the dimension 6-1/4 inches * 6-1/8 inches. You even get a work light chuck key and two other hex wrenches along with the drill. The best part about this drill is that all of this versatility for backyard workshop drilling weighs only 32 lbs.
When to Use Harbor Freight 8-inch 5-Speed Bench Drill Press?
The Harbor Freight 8-inch 5-Speed Bench Drill Press is just like any other drill presses.
However, the additional accessories it comes with enables it to perform a bit more than its counterparts. That being said, here are some of our favorite usage of this product: –
It can be used to craft several motor parts for automotive customization.
We also love to use this tool to create handcrafted artifacts to use as a home or office décor.
The included hex wrenches also come in handy while tightening several joints without welding the pieces together.
Pros & Cons of Wen 8-inch 5-Speed Drill Press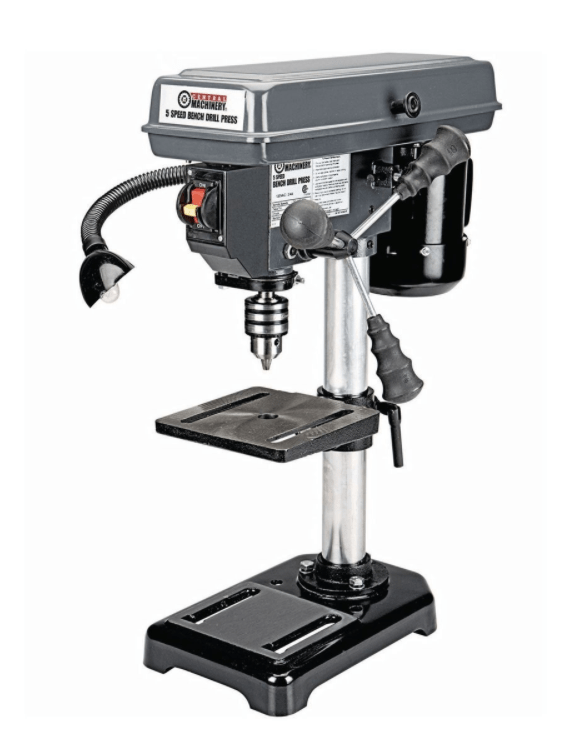 Pros
Unlike its competitor, it comes with a stamped steel base that sits upright.
The inbuilt table also can rotate across 360* while even tilting at 45* max to both right and left sides!
The motor used in this drill is a heavy-duty ball-bearing motor that generates a power equivalent to 1/3 HP.
Cons
The minimum rotation speed you can get from this drill press is 760 RPM. And, while this is sufficiently subtle to drill in most light materials, a handful of delicate materials might not end up looking at what you intend them to after going through this press!
Main Difference Between Wen Vs Harbor Freight Drill Press
While both the tools are equally useful and famous, there is some crucial difference that you must consider in terms of Wen Vs. Harbor Drill Press. Here is the list of primary difference we could find: –
The Harbor Freight Drill Press costs you merely $69.99 while the Wen Drill Press is priced at $88.69.

The Wen Drill Press weighs 1 lb. less than its counterpart. Plus, the lack of a flat bottom may result in inaccurate drills over time.

Both Drill Presses come with tables that can rotate up to 45* to the left and right sides. However, only the Harbor Freight Drill Press comes with a table that can turn 360 degrees around the neck!
Conclusion
Both machines are equally capable in terms of performance and power. However, as far as Wen Vs. Harbor Drill Press is concerned that the Harbor Freight Bench Drill Press's flat bottom makes it a tad more stable than its counterpart.
Moreover, it also costs significantly less. Therefore, we'd recommend going for the best budget drill press, that is, Harbor Freight 8-inch 5-Speed Bench Drill Press.
Bestseller List