In this article we'll review a Hand Planer Vs Bench Planer and see which one comes out on top!
Best Seller
DEWALT Hand Planer, 7-Amp, 3-1/4-Inch (DW680K)
Best Budget
DEWALT Thickness Planer, Two Speed, 13-inch, 15 Amp, 20,000 RPM Motor (DW735X)
Best Seller
DEWALT Hand Planer, 7-Amp, 3-1/4-Inch (DW680K)
Best Budget
DEWALT Thickness Planer, Two Speed, 13-inch, 15 Amp, 20,000 RPM Motor (DW735X)
There are many art forms in the world but only a few that require geometric precision as woodwork. Therefore, for every person earning their living out of it or even the ones who are only passionate about it, choosing the right tools is crucial. And one of the most confusing decisions occurs while choosing a hand planer vs. a bench planer.
Not to worry, though. This article will give you the means to understand one of the most admired hand planers. And, it'll also pit it against one of the best bench planers. So, you'll get a clear picture of which one to choose and when by the end!
What is Hand Planer?
Hand planers were primarily used to shave off the wood's uneven surface to make it smooth before the final treatment. They're one of the primitive tools that helped woodworkers for centuries. Nevertheless, they've evolved drastically over time and technology and have incorporated a lot more into their usage.
Anyway, for this 'hand planer vs. bench planer' article, we've chosen to review the DeWalt DW680K. It's one of the finest hand-held planers you can find in the market. It runs on a 7 Amp motor that provides you a smooth finish every time you run across a wooden log. 
DEWALT Hand Planer, 7-Amp, 3-1/4-Inch (DW680K)
Heavy-duty 7.0 amp motor of the electric hand planner provides a smooth, even finish in the hardest of woods
3/32-inch (2.5mm) maximum cut in one pass reduces the amount of passes on your material with this hand planer
Accepts large resharpenable high-speed steel blades for straight edging or framing applications
Calibrated Depth Adjustment Knob for accurate depth setting and eliminating the need to re-zero your depth
Also accepts reversible carbide blades for more detailed, accurate woodworking
The DeWalt DW680K is an excellent tool for both professionals as well as beginners. And, it has a lot of practical uses too: –
Hand planers are often used to bring out the hidden glory of wooden surfaces. And since a 7 Amp motor powers DW682K, it will give you right what you want!

If you like elegant wooden furniture, you'd want to stay clear of joints using nuts or screws to stay intact. Gluing the two pieces together may seem handy, nevertheless. However, you must ensure that both surfaces to be glued are entirely flat. And that's precisely when this tool comes into play.
Pros & Cons of DeWalt DW680K Hand Planer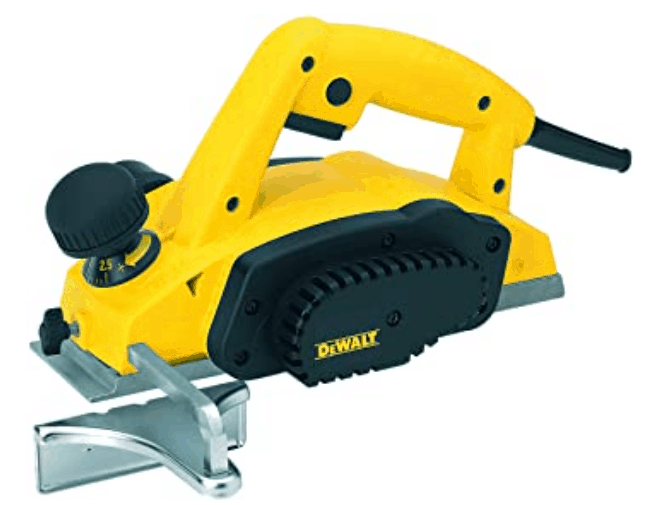 Pros
This hand planer comes with a calibrated depth adjustment knob. This, in turn, allows you to fetch an accurate depth setting without having to re-zero the depth post every use.

It's a versatile tool that accepts reversible cartridge blades and high-speed steel blades that can be re-sharpened.
Cons
The DW680K does not come with any dust bag whatsoever. On top of that, you cannot find one sold by the manufacturer or any other third party either. This most definitely adds on negative points for hand planers in the whole 'hand planer vs. bench planer' debate.
What is a Bench Planer?
A bench planer is a bigger version of the hand planer and is meant to trim more giant wood lofts. These are also known as table planers in some corners of the world. Nevertheless, these tools are primarily used to smoothen or flatten broader wooden surfaces.
We've considered the  DeWalt DW680K for this article. By far, it is one of the best performing table planers we've come across in the industry. This mean machine is powered by 15 Amp motor that runs on 110V of electricity. Anyway, the motor combined with a two-speed gearbox is powerful enough to cut through broader materials at 96 or 179 CPI speeds.
When to Use  DeWalt DW680K Bench Planer?
Sale
DEWALT Thickness Planer, Two Speed, 13-inch, 15 Amp, 20,000 RPM Motor (DW735X)
Purchase includes one stationary 13" Planer, in/out feed tables with fasteners (attached to the base of the Planer base), extra blades and dust hose adapter. Stand is not included.
Three knife cutter head of the thickness planer delivers 30% longer knife life and makes knife change faster and easier
Two-speed gear box of the wood planer allows users to change feed speed to optimizing cuts per inch at 96 or 179 CPI
Fan-assisted chip ejection vacuums chip off of the cutter head and exhausts them out of the machine
19-3/4-inch cast aluminum base is 2 times more rigid than a standard 10-inch base and folding tables
This machine is meant to put out heavy wood flattening to ease. These are some of the best uses we can come up with for this fantastic device: –
This planer is capable of handling 13″ wide wood boards. Plus, it comes with detachable in/out tables to quickly push in and pull the wooden planks to and from the machine. In short, you can easily use this tool to make yourself flawless doors.

It can even be used to create elegant looking wooden table tops with absolute flat surfaces.
Pros & Cons of  DeWalt DW680K Bench Planer
Pros
This tool is capable of handling 13″ wooden planks with ease.

It can even be adjusted to carve or flatten wooden planks that are up to 6-inches wide. Moreover, it can even be used to generate a depth cut of up to 1/8 inches.

The tool comes with an in / out table, dust hose adapter, and a few extra blades.

It has a two-speed gearbox integrated within it. So, you can choose the cutting and flattening speeds from either 96 or 179 CPI.
Cons
It is only meant to be operated with a power source of 110v.
Main Difference Between Hand Planer Vs Bench Planer
Before we move into stating anything further, we'd like to establish that woodworkers well admire each machine. Plus, each of them has a rather practical use. each of them serves a different purpose:
– DW680K is a hand-held tool that weighs merely 11.8 pounds. On the other hand, the DW735X is a stationary tool that needs stands or at least a flat surface to stand. It also weighs more than its counterpart at 101 pounds.


– DW680K can only produce a depth cut of 3/32 inches, while the DW735X is capable of producing a 1/8-inch cut.
Conclusion
As mentioned earlier, both machines justify their respective utilities. One of them is meant to deliver more refined results on smaller planks. However, the other one works well with more massive planks and broader cuts.
In short, you must consider the task at hand before choosing either one of the tools.
Bestseller List
Hand Planer
Bench Planer