Looking for a Review on Hyper Tough Drill?
The creative mind often gets restricted due to a lack of pieces of equipment. Not anymore! If you want to build a wooden rack, a bookcase, a decorative case, you will require a drill for sure. Here, we have brought you the Hyper Tough Drill review, which fits best in all given situations. You can now fit the legs of chairs with your most refined skills and this drill. Let's look at some of its significant features.
Overview
This drill has a sturdy build up. The mechanism is easy to understand. The numerous features it offers allows the users to work freely without any hassle in their daily life. 
It is lightweight and easy to use, but the cost is relatively low compared to other drills, with the same features, in the market. The sturdiness of this product, despite its lightweight, is a significant perk. 
With so many extras and detailed features it offers, we are sure that you will be convinced to buy this drill by the end of this Hyper Tough Drill review.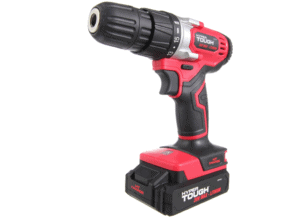 Specifications
Brand name:
Hyper Tough
Item Weight:
4.09 pounds
Dimensions: 
14.1 x 18.8 x 8.75 inches
Batteries required:
Batteries used in a specific part of the product
Color:
Metallic red and black
Material used:
Plastic
Power source:
Powered battery
Voltage:
18 volts
ASIN:
B01CERB7US
Features
It offers numerous features. Some of them are:
Speed settings: Provides speed settings along with the 20-1 position to torque clutch. 
Ease of use: It has an in-built LED work light and a handle for a comfortable grip.
Application: Doors, chairs, tables, fences, benches, cabinets, wooden racks, etc.
Battery: The 18V battery requires 20V when on charging.
Type: This equipment is used to accomplish difficult tasks of daily life.
Add-ons: One 18V Ni-Cd battery, one CEC charger, and one double end-bit.
Cheap: This drill is pocket-friendly when the features offered are taken into account.
Usability
Hyper Tough Drill can be used to drill into tough surfaces like wood, hard soil, rocks, etc. It comes with a charger with a green and red light, indicating charged/charging or not charging/charged. The torque restrains it from slipping away from your hands despite the vibrations. 
The manual states that it takes 5-7 hours to charge but, 3-4 hours are enough to charge fully. The manual is a bit more descriptive than required. Also, it is stated that it isn't meant for commercial usage. It is quieter when compared to a few other drills.  
Being an easy-to-go driver, it cannot be used to drill on tough materials. For instance, you can drill or undrilled a thick screw in a wood log, soft rock, and selective metals (less tensile). You must check the battery power before every usage to avoid any mishappening while operating on it. 
The lightweight of this Hyper Tough Drill allows you to use it efficiently for all your purposes.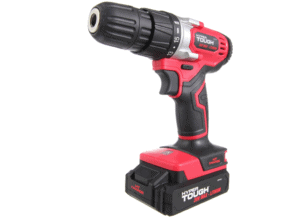 Power
The power required to run Hyper Tough Drill is 18 Volt. However, it requires a 20-volt battery to function efficiently. The battery, when exhausted completely, requires 3-4 hours to recharge. It does not have a fast charger but can function for numerous hours when charged fully. 
Safety
To ensure the users' safety, Hyper Tough Drill has a clutch that helps to hold the drill in place despite the vibrations. The drill has a keyless chuck and adjustable torque, which further stabilizes the drill.
Frequently Asked Questions
Where can I register for the drill?
To do so, you need to return your warranty card to American customer service. You can also call the customer executive to complete registration with a warranty card.
Does this equipment come with a battery?
Yes, this drill comes with a battery. 
How can I buy an extra charger?
You can go to the official site or call on the customer care number provided, to purchase a new charger.
Does it offer a warranty?
Verdict
The pros overpower the minor cons in this Hyper Tough Drill review, which convinces us to buy this product. This product is not only fit for the use of all but offers you perks like no other drills in the market. It is not meant for commercial use, but it fulfils a regular drill in the house.