In this article we'll review the DCS393 Vs. DCS391 and see which one comes out on top!
Best Seller
Dewalt DCS393 bare tool 20V MAX 6 1/2" circular saw in bulk packaging
Best Budget
DEWALT 20V MAX Circular Saw, 6-1/2-Inch Blade, 460 MWO Engine, 0-50 Degree Bevel Capability, Bare Tool Only (DCS391B)
Best Seller
Dewalt DCS393 bare tool 20V MAX 6 1/2" circular saw in bulk packaging
Best Budget
DEWALT 20V MAX Circular Saw, 6-1/2-Inch Blade, 460 MWO Engine, 0-50 Degree Bevel Capability, Bare Tool Only (DCS391B)
A circular saw is most definitely one of the prized possessions of any woodworker. That being said, their usage is not only limited to the woodwork industry. Circular saws these days come with powerful motors. And these allow the saws to cut through plastic, masonry, and even metals.
The primary trick is to look for a circular saw that is either flexible to hack around all materials or pull in different blades. Not to worry, though! We've created this article to compare the two best circular blades of all time: DeWalt DCS393 and DCS391.
(Check our review of the best circular saw under 100 here)
What is DeWalt DCS393?
DeWalt DCS393 is our first choice for this comparison. It is a rather popular circular saw with a 6-1/2-inch blade and operates on a 20V motor. This saw is primarily known for its portability around workshops.

This fantastic tool is powered by a detachable 20V lithium-ion battery that generates sufficient power to rotate this tool's blades at 3700 RPM.
This is not a versatile tool and is specifically meant to be used for woodwork. That being said, the 3700 RPM blades easily cut through the plastic. And, with a bit of expertise, you can even use it for aluminum or steel cutting.
We've tested the DeWalt DCS393 and it's a great tool to be used in any wood workshop. That being said, we still have a list of uses for this tool that excites us: –
This tool comes packed with a 6-1/2″ carbide tipped blade that can be used to create multiple intricate cuts.

It does not require a plugged-in power source to function. So, you can easily carry it around and even take it on camping to carve up a few logs.

With the right battery, this tool can take on some heavy-duty wired circular saws. In short, with a good battery attached to it, it can be used for soft metal cuttings as well.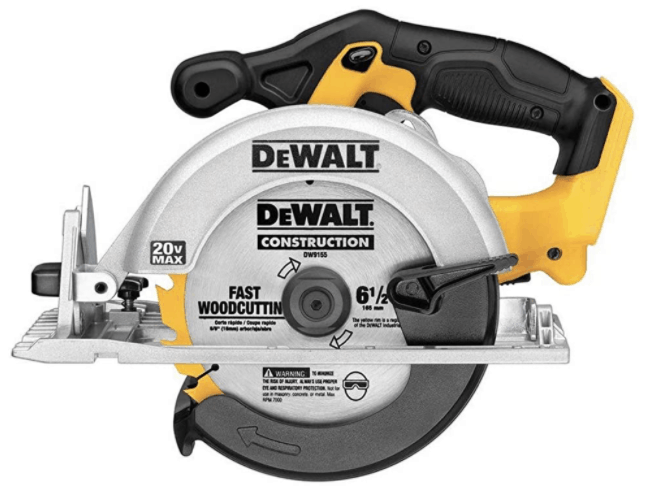 Pros
This tool comes integrated with rubber grips. These allow the users to flawlessly use the device without the botheration of the tool accidentally slipping off hands.
It is a relatively easy tool to operate. Plus, it comes with an adjustable bevel capacity that enables it to be used across different materials.
It does not drain the battery if you choose to use the right one with sufficient power.
Cons
The DeWalt DCS 393 is not compatible to work with low powered batteries. Using a low powered battery unusually increases the frequency of power loss.
What is DeWalt DCS391?
Sale
DEWALT 20V MAX Circular Saw, 6-1/2-Inch Blade, 460 MWO Engine, 0-50 Degree Bevel Capability, Bare Tool Only (DCS391B)
5150 RPM motor of DEWALT circular saw delivers power and speed to make the most demanding cuts with ease
High strength and lightweight magnesium shoe of the corded circular saw provides jobsite durability for long-term cut accuracy
Optimized rubber overmolded comfort grip of the compact circular saw delivers optimal balance and control
0-50 degree bevel capacity allows for aggressive bevel cuts for a multitude of applications
6-1/2-inch carbide-tipped blade for cutting 2 times material at 90 degree and 45 degree and more cuts per charge
DeWalt DCS 391B is our second choice for comparison in this DCS 393 vs. DCS 391 article. This is a bit advanced version of the similar circular saw that comes with a lot more power. Much like the DCS 393B, this tool is a cordless variant.

Moreover, it also features a similar look and feels in the first go. However, unlike its counterpart, it has a more powerful motor that rotates this circular saw's blades at 5150 RPM. The motor can be powered by batteries that generate power of either 110V or 1120V.
The DeWalt DCS 391B is powered by a much more powerful motor, as mentioned earlier. Therefore, we can most definitely think of a lot more uses for this tool. Some of them are listed underneath: –
This machine comes with a 24-touch TCT blade. So, you can use it to deliver a lot more tough cuts onto materials of your choice.
It also features a lock-off switch, which mainly comes in handy when working for long.
The cast magnesium base and guard are there to ensure that you do not accidentally hit yourself while sawing. So, you can use it cut through metal surfaces without worries.
Pros
This comes with a more powerful motor that can make the blades rotate at 5150 RPM.
It is a tad bit lighter as compared to its counterpart.
It even comes with a magnesium base that provides more stability and safety at the same time.
It can cut the same material at two different angles: 45* and 90*.
It can switch from battery to a charger as per the users' convenience.
Cons
It tends to drain the battery heavily at times.
DCS393 Vs. DCS391
So far, in this DCS 393 vs. DCS 392 article, you have come across many similarities and dissimilarities in both the saws. However, there are a couple of features that we still need to discuss. And these are the primary traits that differentiate these tools from one another.
So, here they are:
DCS 393 weighs 7.62 pounds, whereas the DCS 391 weighs a little less at 7.1 pounds.

DCS 393 can only hack through materials with a rotation speed of 3700 RPM. On the other hand, the DCS 391 is capable of rotating at a speed of 5150 RPM.
Conclusion
Both the tools are popular with their respective users. Nevertheless, if we have to conclude this DCS 393 vs. DCS 391 article, we'd root for the later. This is primarily because of the versatility and power it comes with, even considering that it's a bit costlier than its counterpart.
Bestseller List