Looking for a Best Palm Nailer?
In A Rush? Check Out The Number 1 Pick Here:
Struggling with nailing in tight spots and corners that your hands can't reach? 
Ditch the traditional hammers and resort to palm nailers. These are your modern and versatile tools that will always come in handy for framing to finishing applications. They are used for decking edges and flooring purposes, where floor nailers can't reach. 
Best Seller
BOSTITCH PN100K Impact Nailer Kit by BOSTITCH
Editor Choice
PORTER-CABLE PN650 Palm Nailer Kit
Best Budget
BOSTITCH Palm Nailer, Mini Impact (PN50)
Best Seller
BOSTITCH PN100K Impact Nailer Kit by BOSTITCH
Editor Choice
PORTER-CABLE PN650 Palm Nailer Kit
Best Budget
BOSTITCH Palm Nailer, Mini Impact (PN50)
Angled vs straight finish nailer
Harbor freight nail gun review
How to Choose the Best Palm Nailer?
If you've looked closely, you can tell that it's almost hard to pick from the extensive range of palm nailers. The manufacturers deliberately make it hard for the buyers to identify what's relevant, sneaking in on the product's setbacks. If one has considered a few things carefully, it certainly won't be a huge deal to pick the best one. 
To give you a glance into its functionality features, citing them here: 
Ergonomic design that fits well in the palm of your hand

Accepts maximum pressure 

Accepts nails in bulk 

Durability 

Intense nail driving 
5 Best Palm Nailers: Our Top 5 Picks
Compiling a few industry best palm nailers to rescue your buying dilemma. 
Bostitch is precisely the tool you were looking for, all this while. It can drive common bulk nails in congested spaces. It has a magnetic nose with a recessed nail slot used for stably holding nails for proper fastener placement. The whole kit includes: finish nail nose, leather comfort glove, nose wrench, large-bore nose, lubricant tool, and spare O-rings. Its ergonomic design optimizes comfort for users, which is an essential feature for anyone who wants to drive large chunks of nails at once.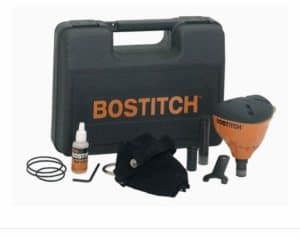 PORTER-CABLE PN650 Palm Nailer Kit
The product is Palm Nailer Kit
Easy to use
The product is manufactured in United States
Capacity from 1-1/4-inch to 6-1/2-inch (3d to 70d)
Comes with four different nose tips
Porter-Cable has the look of a compact palm nailer device. It is effortless to use because of the comfortable design supported by its magnetic tip. This nailer accepts 1-1/4 to 6-1/2 inch nails that come with four different nose tips, including magnetic tip, wide nail tip, finishing tip, and steel hammer tip. Nothing to worry about the nail being driven too deep because of its depth-of-drive control feature that makes sure the nail is set correctly. 
Sale
BOSTITCH Palm Nailer, Mini Impact (PN50)
Rubber grip designed to insulate and reduce vibration
Weighs only 1 lb.
360° swivel air fitting for maximum accessibility
Front exhaust directs air away from users palm
Drives most common bulk finish, framing & timber nails
As we can tell by its look, Bostitch is like a Mini Impact Lightweight Nailer. For a comfortable grip and easy handling, rely on this mini impact nailer, for it will take care of your convenience and maximum accessibility concerns. There's a front exhaust that directs air away from the user's palm and drives standard bulk finish, framing, and timber nails. It can drive nails in the most congested areas, which is better than this!
Freeman Pneumatic Mini Palm Nailer with Magnetic Tip Ergonomic & Lightweight Nail Gun for Tight & Hard To Reach Spaces
Nailed It: The Freeman PMPN Pneumatic Mini Palm Nailer with Magnetic Tip is a small but powerful hammer to assist you when working in tight spaces and hard to reach areas. It's lightweight with an ergonomically designed body and can handle nails from 6D to 16D, and up to 3-1/2".
Pro Design: This powerful and durable palm nailer features high quality internal parts and a lightweight, ergonomic design weighing in at under two pounds. It comes with everything you need to hammer in hard to reach places, with air tool oil and adjustment tools included.
The Right Tool for the Job: We're committed to providing outstanding value, top tier customer service and long lasting, high quality products. We make nailers and staplers for every purpose, from roofing to siding to flooring and everything in between.
Quality and Durability: We manufacture tools with the most durable materials under strict quality control guidelines, suitable for professional contractors and do-it-yourselfers alike. Our tools are sold, distributed, serviced, and warrantied in the USA.
Tough and Dependable: We make an array of durable construction tools and accessories, including staplers and nailers for siding, flooring, framing, finish, and roofing. Compare our products to similar items by Makita, Hitachi, Bostitch, Senco, Paslode, and Dewalt.
Freeman is a tiny yet incredibly powerful air hammer to aid you in the hammering tasks. This tool is compatible with 6D-16D nails front 2″ to 3-1/2″. It has a magnetic tip that enables an operator to put the nail of the gun's tip. Rest, leave to the nailer to nail it for you! 
Sale
Senco PC0781 Pneumatic Palm Nailer
Drives bulk nails from 5d to 70d
Balanced 2.5 pound weight
Soft rubber palm pad for comfortable grip
Magnetic nail guide for faster and easier driving
Leather grip reduces fatigue
Senco PC0781 is so convenient to handle, and it can easily fit in the palm of your hand, therefore becoming an ideal object for metal straps and pole barn assembly. It comes with a palm pad made of soft rubber designed for your comfortable grip. It is incredibly lightweight and well balanced. For trouble-free fastening, activate the firing mechanism with just a little pressure. 
FAQs
Is this tool even the right choice for stainless siding nails?
The Bostich palm nailer is most preferable when driving any nail with heads on them is concerned. Might leave tiny imprints on the surface finish. 
Is the recess amount below the surface adjustable? What's the maximum recess depth?
It is not adjustable. It will sink nails up to ⅛ inches below the surface if you hold the nailer tight as it finishes driving.
Verdict
Of all the palm nailer we discussed at length, Bostitch PN100K Palm Nailer Kit comes off as the ultimate pick you're looking to buy. Embodying every feature from a comfortable grip and advanced functionality to maximum output, this palm nailer has everything it takes to be your favorite.
Bestseller No. 1
Carpenter CMPN90 Mini Impact Palm Nailer
Comfortable ergonomic rubber grip makes it easy to use for prolonged periods.
Great for use in confined areas where swinging a hammer may be difficult.
Suitable for round head nails of all different lengths and sizes drives nails in seconds.
Lightweight design weighing less than 1 pound but very powerful design.
Sale
Bestseller No. 2
Bestseller No. 3
PORTER-CABLE 20V MAX Cordless Brad Nailer, 18GA, Tool Only (PCC790B)
100% battery power of the cordless brand nailer eliminates need for compressor, hose or costly gas cartridges
Motor design of 18 gauge brad nailer provides consistent firing power into various materials and climate conditions
Multiple Tool-Free settings of the battery brad nailer provide ease of use
Unit's lightweight and optimal center of gravity provide user comfort in multiple positions reducing user fatigue
Multi functional dual LED lights function for workspace illumination and error indication
Bestseller No. 4
Bestseller No. 5
BOSTITCH Metal Connector Nailer, 1-1/2-Inch (MCN150)
Compact design of the framing nailer gun fits between 12-inch O.C. joists
Low nail lockout prevents dry fires
Exclusive safety system prevents misfires
Exposed nail tip design fires in the hole for fast precise nailing
Drives 1-1/2-inch paper tape collated metal connector nails (.131-inch - .148-inch diameter)